Black & Brown Presents: White-Identified Males Advocating for Change! →
purpose
Goal
To empower and motivate our Black and Brown young men to excel in academics and to accept nothing less than excellence from self.
Objectives
Critique social structures that inhibit Black/Brown young men from being successful in education.
Highlight the achievements in spite of the obstacles/barriers that they face.
Contextualize their self identity socially, culturally, historically, and politically by giving the young men a sense of self and value of self.
Summit Archive
View proceedings from the 2019 and 2018 Summits.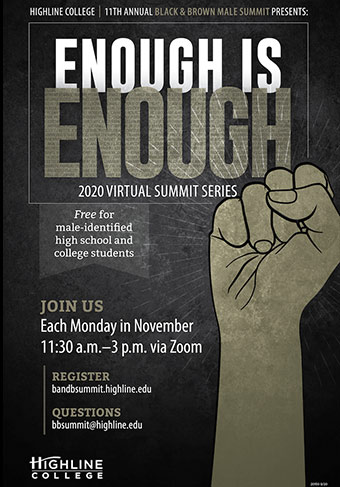 View an enlarged version of this year's poster
We acknowledge that students may be overwhelmed with virtual school and we're asking them to attend the summit during the school day.
As an incentive for attending the summit series, students will have the opportunity to earn two college credits (College 100: College Success Seminar). Students must attend all five days to be eligible to receive college credit. More details will be sent out after registration opens. We are hopeful that this opportunity will encourage the young men to attend all days of the summit and we're especially thankful for the schools supporting this event and the students attending.